Regular price
$75.00
Sale price
$34.90
Unit price
per
Sale
Sold out
Spin Scrubber
Cordless. rechargeable power scrubber. Ideal for indoor and outdoor use. 
Using Hurricane Spin Scrubber is as easy as attaching your desired brush head and pressing a button. Its 300 "scrubs per minute" spinning action is powered by a rechargeable NiCad battery. The spinning action at the end of the handle can be used to clean a variety of surfaces. Hurricane Spin Scrubber features flexible bristles which can get into cracks and small crevices in order to help break up dirt and grime.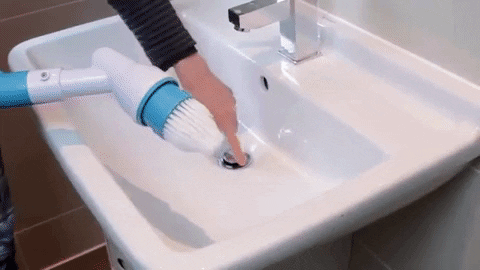 The bathroom is arguably the most difficult place to clean. but the household automatic cleaning brush will make it easier for you. It is electrical and has a retractable handle making it a perfect cleaning assistant. You do not have to stretch or bend over to reach all angles and corners in the room. You can adjust the brush to the appropriate length and angle needed and clean the place without straining.
This cleaning brush is also wireless. making it easy for you to use. You can clean your tiles. bathroom. sink. and crevices around your house without the wire interrupting you.
Keep Every Surface Spotlessly Clean
The household automatic cleaning brush comes with 3 replaceable brush heads to ensure that even the hard to reach areas are kept clean. One has a big brush head to clean large surface areas. It is also soft to help it clean fragile goods. Another has a round brush head that looks like a concave and is suitable for cleaning bathtubs and sinks. The last one is a corner scrubber head that is ideal for cleaning hard to reach areas. Combined with the adjustable handle. you can keep every part of your house clean without struggling at all.
Features:
This automatic cleaning brush has a brush head that rotates at 360 degrees. This makes it able to clean corners and high places well. It also enables it to clean flat surfaces thoroughly. making it suitable to use for polishing and waxing.
The household automatic cleaning brush is ideal for cleaning your bathroom. car. swimming pool. all types of floors. and other surfaces too. It can get rid of mildew. soap scum. and other types of dirt easily.
This cleaning brush comes with a charging port on the tip of the handle that allows you to power up the brush. It has a waterproof cover that seals it up to keep water away and enables the brush to work for a long time. It also has an on and off button that you press to use the brush or to stop it from scrubbing. Since it is operated electrically. you can scrub off stubborn stains without using so much effort.
The household automatic cleaning brush is a perfect gift idea for your friends and family. Being able to scrub your bathroom floors without having to bend and hurt your knees would motivate your husband and kids to help you do the house chores. Your wife. mom. grandma. and friends would appreciate owning this brush.
Electric Cleaning Brush with 3 mode washing. perfect meet different requirement. Working with 4*AA battery. fast and quickly. save your time and without putting any added strain on your arm. 
It is very suitable for use in kitchen. bathroom. washing table and other places.
The tool is very simple to use with a single button for on/off.
The soft sponge brush is suitable for cleaning the fragile goods.
The polyester sherpa brush is suitable for cleaning sofas and carpets.
The hard nylon brush is suitable for cleaning kitchen. tub. tiles and so on.
The lightweight tool.ABS plastic handle. comfortable grip. cordless operation.
Seamless sticky hook keep your brush within reach on the wall or any metal surface.
SPECIFICATIONS:
Weight: 390g.
Size: 17 x 22cm.
Material: ABS+Nylon.
Power Supplies: 4 x AA Battery(Not Included)
PACKAGE INCLUDE:
1 x Nylon Brush.
1 x Soft Sponge Brush.
1 x Seamless sticky hook.
1 x Polyester Sherpa Brush.
1 x Multi-Function Electric Cleaning Brush

 

Handle

.
Share
View full details