🔥🔥🔥Note: Replacement head and cat stick (handheld model+suction cup type) are sold separately, please purchase on demand.
🌻🐱🌻
Variety is the spice of life, even for your cat.
This luxury Simulation bird toy offers your cat toy to interact with.
FEATURES
🍂Cat Interactive Toy: Cat toys are mostly designed to engage our furry friends and bring out their hunter instincts. Bonding with a new kitten or a timid adoptee, cat toys can be the perfect way to help your new family member feel at home.
🍂Safe Material: Made from premium quality materials that are cat-friendly and non-toxic. Mimics hunting natural prey for cats and kittens. Best practices for playing with your cat!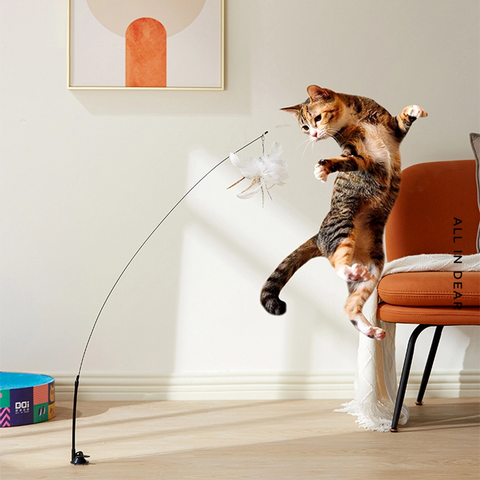 🔸Handheld model: You can hold the cat stick to interact with your cat.
🔸Suction cup type: You can fix it on the floor or wall, and the cat will play with it. You can separate the stick from the base, hold it and play with the cat.
🔸Replacement heads: Eight interesting replacement heads for you to choose from. Replace it in time to bring freshness and happiness to your cat.

SPECIFICATIONS
Material: PVC+foam+metal+feather
Color: as shown in the picture.
Style: handheld model+suction cup type; white feathers; white blackbird; Vader bird; hibiscus bird; long-tailed warbler; black feathers; pink feathers; white and blue feathers
Weight: 60g / 0.13lb; 50g / 0.11lb
PACKAGE INCLUDED
1 × Kitten Playing Teaser Wand Toy