Give you a perfectly contoured & fuller appearance


Waterproof design, will not fade easily due to sweat or water




Easy to use, Designed with a four fork tip head for a more seamless look.
✨ The Advantages:
No smudging
No fading
Easy to apply
Easy to remove
Waterproof
Long-Lasting
Natural Looking
For Lady:

Our specially designed four-tip pen creates strokes that naturally come together to form a beautiful eyebrow that perfectly frames your face for any makeup look. Help you create flawless and natural-looking eyebrows.
For Gentleman:
It fills in the gaps in your mustache, beard, and eyebrows for a sleeker and cleaner look you can be confident in.
Start by drawing the contour of your beard or mustache and continue to color inside evenly along with the desired shape. brush over the application with Soft Bristle Brush to create a more natural look.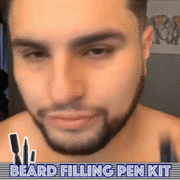 Features:
Micro-Fork Tip -Features a four-pronged micro-fork tip that draws on realistic hair with thin brush strokes.
Soft Bristle Brush -Comes with a soft bristle brush that's gentle on the skin. Brush overfilled areas for a more natural look.
Long-Lasting Wear -Sweat-proof and water-resistant with minimal fading or smudging.
Different Colors -Available in different colors for a seamless blend to your natural hair.
For All Skin Types -Safe to use on all skin types.
Specifications:
Color For Lady: Light Brown / Dark Brown / Red Brown / Gray Brown / Black.
Color For Gentleman: Black, dark brown
Weight For Lady: 5g
Weight For Gentleman: 5g
Type: Four points.