This cuckoo clock lets you enjoy the spectacular spookiness of the classic family film every minute of every day!
What's this? It's a Nightmare Before Halloween Cuckoo Clock! If you love Tim Burton's The Nightmare Before Halloween stop-motion animated musical film then you will adore this creepy cuckoo clock that features all your favourite characters from this creepy Halloween classic!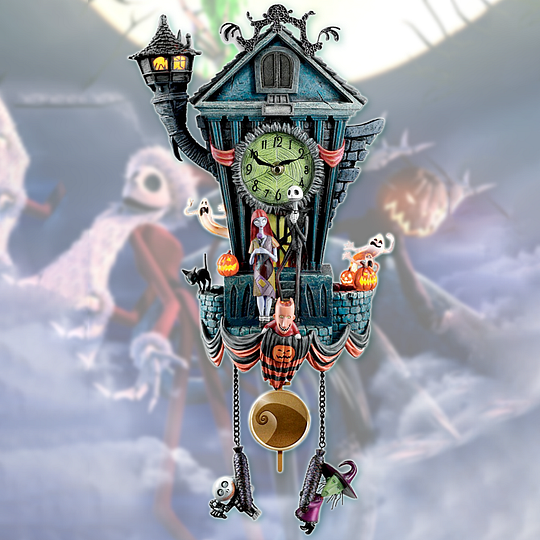 It's Time For A Good Scare!!
Disney Tim Burton's The Nightmare Before Halloween Cuckoo Clock.
Lights, music and motion bring your spookiest friends to life! On the hour, the music to "This is Halloween" plays and Zero emerges as a-one-of-a-kind cuckoo!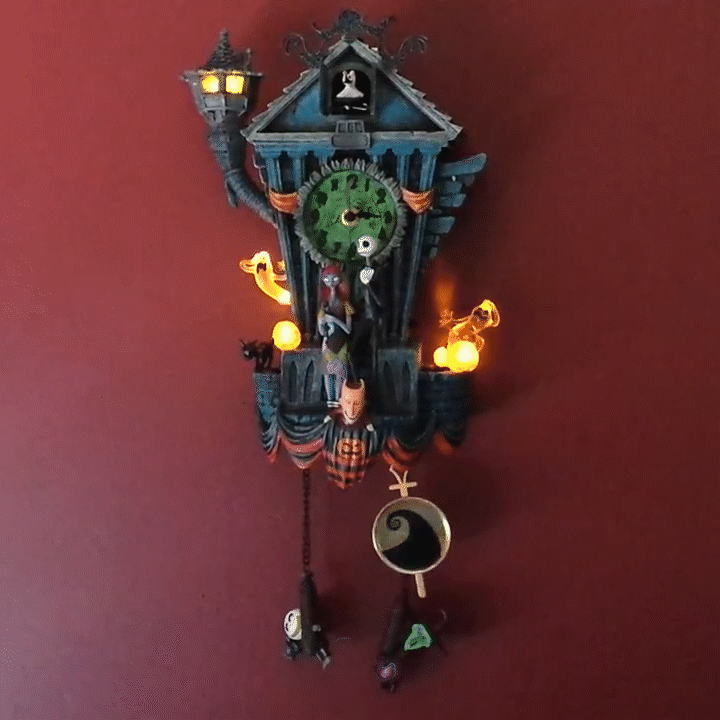 Features:
Fully-sculpted clock features Jack Skellington, Sally, Lock, Shock and Barrel, Jack's tower and the Town Hall.
Clock plays 'This is Halloween' while Zero pops in and out of the doors on the hour.
Clock and characters are hand-cast and hand-painted to capture the film's spooky ambience and vivid nightmarish colors.
At the flip of a switch, the windows of Jack's Tower, the ghosts, and pumpkins illuminate with glowing LED light.
The detailed clock is powered by a precision quartz movement and features an embellished clock face complete with spider web design.
A swinging brass-toned pendulum is decorated with the Halloween Town Spiral Hill while the decorative pine cone weights hang below, with Shock and Barrel clinging to them!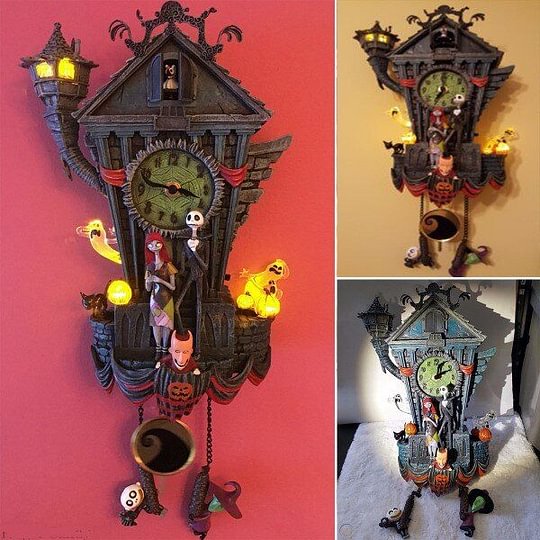 Time seemingly stands still as you gaze upon this compelling cuckoo clock; watch as Jack Skellington and Sally meet upon the steps in front of the Town Hall, gaze into the illuminated windows of Jack's Tower, and marvel at the mix of pumpkins, ghosts, black cats and Halloween banners that adorn this amazingly intricate timepiece! You should also keep an eye out for Lock, Shock and Barrel hanging around the pinecone weights which hang from the bottom of this Nightmare Cuckoo Clock. In between these pinecone weights hangs a magnificent brass-toned pendulum which has been embellished with the design of Halloween Town's iconic Spiral Hill.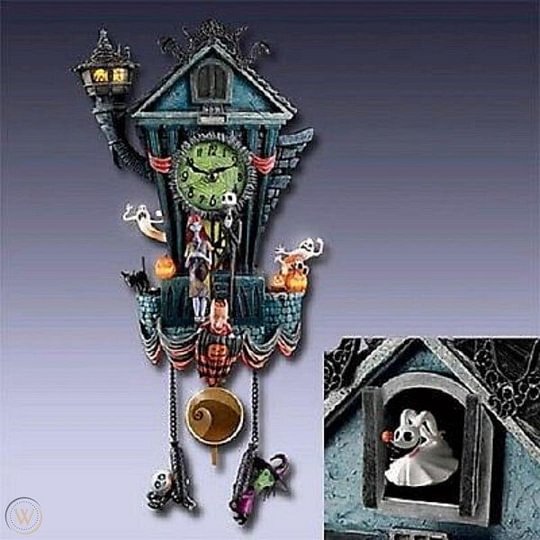 Nightmare before halloween clockBoys and girls of every age, wouldn't you like to see something strange? Then make sure you stick around to hear this cuckoo clock mark the hour in true Halloween Town fashion! Rather than simply chime to mark the passing of time, this Nightmare Before Halloween Cuckoo Clock plays the fan-favourite This Is Halloween soundtrack theme whilst Jack's faithful canine companion Zero flies in and out of the arched doors atop the Town Hall; not to be missed!