Detail:
Travel outdoors with your pet –
Our small animal backpack has a large space and is suitable for most small and medium-sized pets, such as chihuahuas, teddy bears, corgis, chinchillas, rabbits, etc. The size is 16 inches x 13 inches x 11 inches (approximately 40.6 cm x 33.0 cm x 27.9 cm), suitable for taking your cat and small dog for hiking, shopping or any outdoor activities.
| | |
| --- | --- |
| | |
Ventilation design and adjustable shoulder strap –
This pet travel backpack is composed of breathable mesh on three sides. Entrance on both sides allows air to flow, allowing pets to get maximum comfort, adjustable ventilation, ergonomic shoulder strap design, free your hands. The pet backpack with safety buckle can be fixed on the pet collar to prevent your pet from jumping out or getting injured by itself.
Bring comfort to pets –
The top opening of this cat cage allows you to soothe your pet, and the comfortable cushion makes the journey easier. Weight-bearing capacity: up to 12 pounds (approximately 5.9 kg) suitable for most small animals. The top mesh window can be filled in to keep it open. You can put your comfortable pet back to back on your front or back, and a puppy or kitten can enjoy the surrounding environment and breathe with you in the top window!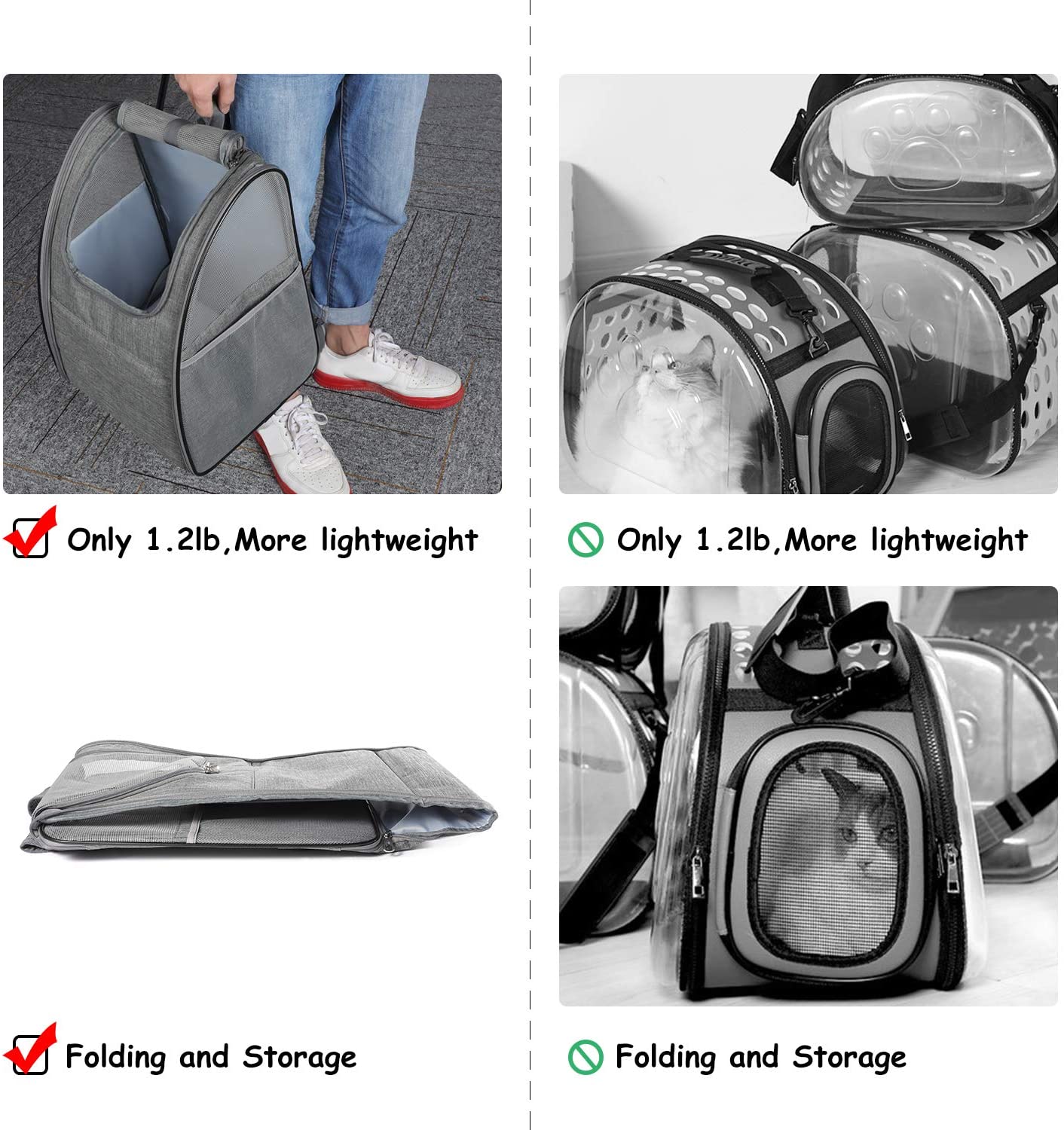 Storage and materials-
Our cat backpack is made of high-quality polyester fabric, which is durable! The foldable design will not temporarily use the space when not in use. It is very suitable for traveling, walking, sightseeing, camping and hiking, and outdoor use.
customer satisfaction –
We 100% believe that our products can make you feel full of energy! If you are not satisfied with our cat care, please contact us and we will find a solution together!
Description:
Worried about pets being frightened?
Worried that the cat bag is not breathable?
We have only thought about all these situations. This cat bag is breathable on three sides, so there is no need to worry about stuffiness. Carrying a bag at the same time is safer and more portable than leaving the pet outside.
Choose us and choose a more comfortable way for your pet!Specification:
Size: 40.64*27.94*34.01 cm
Material: Oxford cloth material + mesh
Weight: about 1.3 kg
Applicable animals: small animals (maximum 13 pounds)