The
Car Rear View Mirror Phone Holder
 enables you to quickly and easily plug your cell phone into a convenient holder positioned for easy viewing. You will no longer have to look down or away from your natural line of sight while driving. Listen to music. chat or navigate whilst maintaining a safe driving experience.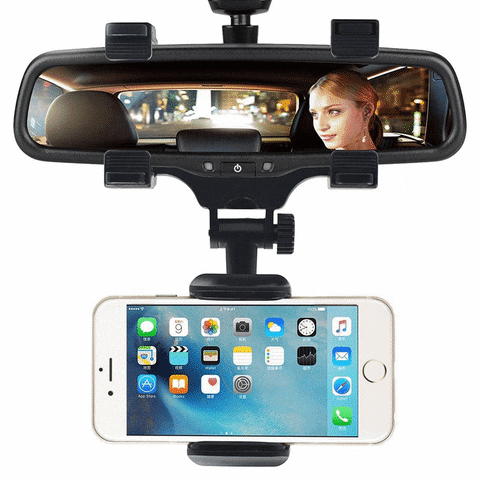 FEATURES
Safe Head-up Viewing

 

-

 

Mounts smartphones

 

securely to the rearview mirror. elevating your device above eye-level as a head-up device. Provides a non-obstructive driving view instead of holding phones to the air vent or dashboard. No more looking down to view phones.
Swivel Ball Joint

 

- Provides 270° tilting angles and 360° rotation for landscape and portrait orientations.

 

 Holds your cell phone horizontally or vertically. side to side.

 

Especially perfect for GPS navigation.
Easy to Install

 

-

 

Simply attach the bracket to the rearview mirror for a sturdy hold. 

Spring-loaded clips are highly flexible to grip phones and rearview mirrors. Slightly pull to clamp without extra tools. Able to remove without leaving a scratch.
Non-slip Protective Pads

 

- Padded with soft. anti-scratch & shock-proof silicone. it stabilizes your device in place even when going over speed bumps on the road. Protects your phone and rearview mirror from scratches.
High Compatibility - Universally fits all 3.5' - 7' devices. 
SPECIFICATIONS
| | |
| --- | --- |
| Material | Plastic (Acrylonitrile butadiene styrene) |
| Product Weight | 135 grams |
| Size | 6.14 x 4.29 x 3.97 inches |

PACKAGE INCLUDED
1 x Universal Car Rearview Mirror Phone Holder/Mount