Are eyebrow pencils not really giving you the results that you are looking for?

🙅‍♀That's because you didn't find an eyebrow pencil that suits you.our eyebrow pen is your best choice to charming.💅
The 4 Points Eyebrown Pen is you must have.which was developed to help you create flawless and natural looking eyebrows.

Our specially designed four tip pen creates strokes that naturally come together to form a beautiful eyebrow that perfectly frames your face for any makeup look.

Your eyebrows will look fuller. more polished and defined.
It's so easy to apply. making it perfect for beginners and professionals alike.

 

The eyebrow pen evenly glides providing beautiful color that lasts all day. 

❤ No smudging

❤ No fading

❤ Easy to apply

❤ Easy to remove

❤ Waterproof

❤ Long Lasting

❤ Natural Looking 

How to Use

:

-Apply starting at the arch of the brow going towards the tail.

-Continue to apply from the front of the brow towards the arch using short upward strokes. filling in sparse areas.

Do you want a Waterproof. Long Lasting. Natural Looking 3D microblading eyebrow tattoo pen?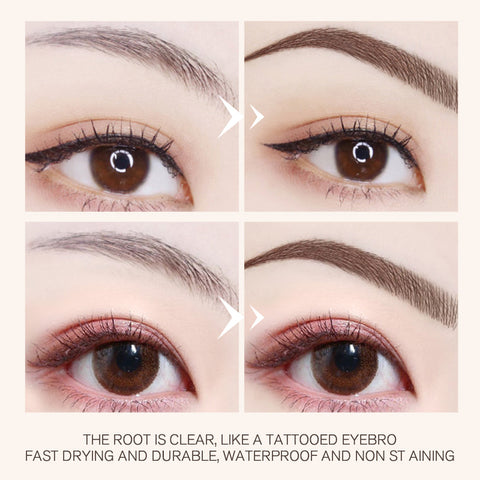 No matter if you are a professional or a beginner
. our eyebrow pencil is easy to use and it can enhance your self-confidence. 
Suitable for all ages and complexion
. You can get a perfect makeup look all your life.


Prompt:
When using eyebrow. Answer to be in facial dry or do not use any to protect skin to taste and when making up powdery bottom to use.
If there is oil on the surface. It will easily block the air outlet and cause the water to be not smooth.
Therefore. it will be more lasting if it is directly painted on the skin of the eyebrows.
Specifications:
Color:

 

Light Brown / Light Gray / Dark Brown / Red Brown / Gray Brown / Black.
Ingredients: Water / Propylene Glycol.
Type: Four pointed.
Including:
1 x 4 points eyebrow pen.